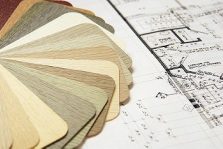 Picking the right siding for your house is a delicate balancing act between good looks, durability, maintenance, and affordability. What you choose to place on the exterior of your home will have a lasting impact on the value.

---
FIBER CEMENT SIDING- It masquerades as wood or masonry, wears like concrete, and survives even the harshest elements such as fire, heavy storms, and cold temperatures. It is also rot and termite proof.


VINYL SIDING- It is extremely durable. Unlike other types, it stands up to extreme weather conditions and will not peel, blister, flake, crack or corrode. Its virtually maintenance-free finish means no scraping, painting, patching or replacing rotted wood. *Adding insulation under siding adds another layer of insulation and moisture protection to the structure helping to save on heating and cooling costs.


CEDAR SIDING- cedar siding stands out as unique and beautiful. It can be treated with stains, finishes or oils to create a variety of different looks and colors. Cedar is naturally water, decay, and insect resistant.



PICTURE GALLERY "Before and After"